The Look of Authentic Wood – But Low Maintenance and Fire Resistant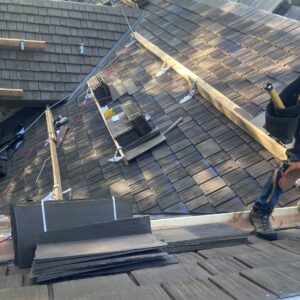 Cedar wood roof shingles are a distinctly Northwest style that look beautiful on many homes in Oregon. They create a distinctive natural look and unique style. The downside is that wood roof shingles require maintenance and are not fire resistant.
Northwest Quality Roofing has a solution! CeDUR synthetic roof shakes are made from a state-of-the-art Polyurethane manufacturing process which allows them to mold each shingle from natural wood giving them an incredible natural wood look. Products come in a variety of colors to ensure complimentary look to your existing style and color design.
CeDUR shakes offer the same aesthetic appeal of hand split cedar shake. The shakes are molded from real cedar, meaning our grain patterns, shadow lines, and texture are true to life. Natural movement is designed into the CeDUR product to give the roof the natural cedar shake appearance. CeDUR shakes may be installed in a straight course or staggered course. The shake shingles are available in three widths which adds authentic wood beauty and amazing curb appeal to your home.
Some of the features and advantages of CeDUR Roofing Shingles include:
Beautiful deep grain wood patterns
Rich natural wood appearance with thick shadow lines and grooves
No mold or mildew growth
No plastic sheen or un-natural appearance
No fire risk, splitting, rotting or decay
No water absorption
Solid Product with Color Through Pigmentation
CeDUR is not a hollow or cavity back roofing product, meaning each individual roof shake is solid.  CeDUR Color Through Pigmentation means you can cut right through the product with a utility knife. This helps ensure superior installation at the roof's hips, valleys, ridges, and eaves.  Solid product composition also means better insulation for your home. CeDUR is an energy efficient roofing material with an R-Value in excess of 2.0.  Your home will warmer in the winter and cooler in the summer.
High Performance Roofing Product
Class A Fire Rating – best industry rating
Class 4 Impact Rating – best industry rating
Lightweight – just 170 pounds per square
50 Year Limited Material Warranty
Low maintenance, low water absorption
115 MPH wind speed certified
Environmentally friendly polyurethane roofing material
Highest Impact Resistance Rating
CeDUR testing was completed through QAI Laboratories (Quality Assurance Institute) and  test results can be viewed using the link  or by typing ESR3838 into Google Search Engine. See Test Results Here
There are four impact resistance ratings from 1 to 4, with 4 being the most impact resistant. In the Class 4 impact test, a 2 inch steel ball is dropped from a height of 20 feet on multiple surface points of a CeDUR Shake. In order to achieve a Class 4 impact rating the material must withstand the impact test and not suffer damage.
Contact us Today for additional information or a free estimate or call us at 541-647-1060